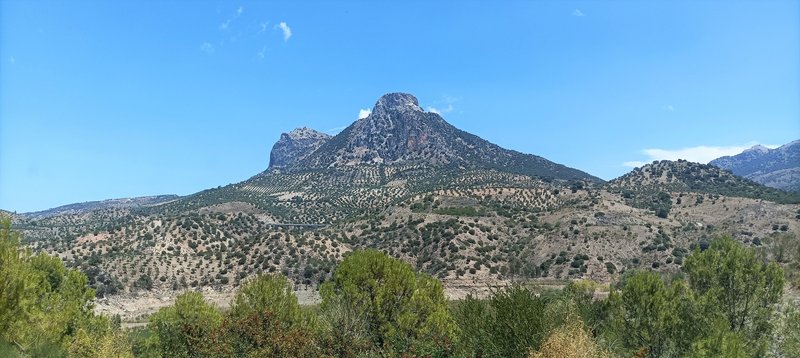 Sizzling skies above Jurassic peaks
by Antonio Jordán, University of Seville, Sevilla, Spain
First, in English:
One of the most prominent orogenic events during the Jurassic period was the Alpine Orogeny. This colossal collision of tectonic plates led to the formation of the mountain range we now know as the Alps. At that time, Laurasia and Gondwana were still separated by the Tethys Ocean. As both continents approached each other, the collision generated immense pressure at the contact zones. Sedimentary rocks (such as limestone, in the picture) that once occupied the ocean floor were uplifted and folded, creating large-scale mountainous elevations.
The center of the image displays the peaks of Lagarín (1067 meters above sea level, left) and Las Grajas (1041 meters above sea level, right), seen from Zahara de la Sierra.
Ahora, en español:
Uno de los eventos orogénicos más destacados durante el Jurásico fue la Orogenia Alpina. Esta colosal colisión de placas tectónicas dio lugar a la formación de la cordillera que hoy conocemos como los Alpes. En ese entonces, Laurasia y Gondwana seguían separados por el océano de Tetis. A medida que ambos continentes se aproximaban, la colisión generó una inmensa presión en las zonas de contacto. Las rocas sedimentarias (como las calizas, en la imagen) que ocupaban el lecho marino se elevaron y plegaron, creando elevaciones montañosas de gran envergadura.
El centro de la imagen muestra los picos Lagarín (1067 msnm, izquierda) y Las Grajas (1041 msnm, derecha), vistos desde Zahara de la Sierra.