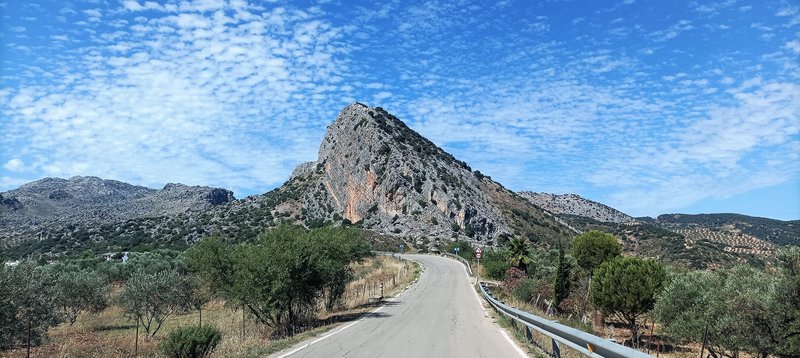 Jurassic heights: a roadside portrait of prehistoric mountains
by Antonio Jordán, University of Seville, Sevilla, Spain
First, in English:
The Jurassic is a geological period that spanned approximately from 201 to 145 million years ago, witnessed crucial events in the history of our planet. One of the most significant geological phenomena during this period was orogeny, a process of mountain formation that transformed landscapes and substantially shaped the Earth's surface. Over millions of years, powerful tectonic forces led to the rise of majestic mountain ranges, contributing to the shaping of the Earth as we know it today.
Orogeny is the result of the interaction between tectonic plates, massive fragments of the Earth's lithosphere that float atop the asthenosphere. During the Jurassic, the configuration of the plates was notably different from the present. Pangea, the supercontinent that began to break apart during the Triassic period, continued its division into two main continental masses: Laurasia to the north and Gondwana to the south.
One of the most prominent orogenic events during the Jurassic was the Alpine Orogeny. This colossal collision of tectonic plates gave rise to the formation of the mountain range we now know as the Alps. At that time, Laurasia and Gondwana remained separated by the Tethys Ocean. As both continents approached each other, the collision generated immense pressure at the contact zones. Sedimentary rocks (such as limestone, in the image) that covered the seafloor were uplifted and folded, creating massive mountain elevations.
The limestone ranges in southern Spain were uplifted during this era. While not exceedingly tall (Cerro Hacho, in the image, stands at only 1075 meters above sea level; the highest peak, Torreón, in the Sierra de Grazalema reaches 1648 meters above sea level), the folding and uplift of the strata resulted in very rugged terrain.
Ahora, en español:
El Jurásico, una época geológica que abarcó aproximadamente desde hace 201 a 145 millones de años, fue testigo de eventos cruciales en la historia de nuestro planeta. Uno de los fenómenos geológicos más significativos durante este período fue la orogenia, un proceso de formación de montañas que transformó paisajes y configuró la superficie terrestre de manera sustancial. A lo largo de millones de años, poderosas fuerzas tectónicas dieron lugar a la elevación de cordilleras majestuosas, contribuyendo al modelado de la Tierra tal como la conocemos hoy.
La orogenia es el resultado de la interacción entre las placas tectónicas, enormes fragmentos de la litosfera terrestre que flotan sobre la astenosfera. Durante el Jurásico, la configuración de las placas era notablemente diferente a la actual. La Pangea, el supercontinente que comenzó a fragmentarse durante el período Triásico, continuó su división en dos masas continentales principales: Laurasia al norte y Gondwana al sur.
Uno de los eventos orogénicos más destacados durante el Jurásico fue la Orogenia Alpina. Esta colosal colisión de placas tectónicas dio lugar a la formación de la cordillera que hoy conocemos como los Alpes. En ese entonces, Laurasia y Gondwana seguían separados por el océano de Tetis. A medida que ambos continentes se aproximaban, la colisión generó una inmensa presión en las zonas de contacto. Las rocas sedimentarias (como las calizas, en la imagen) que ocupaban el lecho marino se elevaron y plegaron, creando elevaciones montañosas de gran envergadura.
Las sierras calizas del sur de España se elevaron durante esta época. Si bien no son demasiado altas (el Cerro Hacho, en la imagen, posee solo 1075 msnm; el pico Torreón, el más alto de la Sierra de Grazalema alcanza 1648 msnm), el plegamiento y elevación de los estratos causó un relieve muy accidentado.