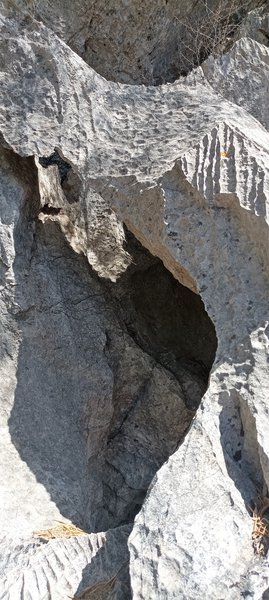 Hole in a (limestone) wall
by Antonio Jordán, University of Seville, Sevilla, Spain
First, in English:
Limestone is composed of calcium carbonate (CaCO₃). Although solid and resilient, CaCO₃ dissolves very easily in water rich in carbon dioxide (CO₂). In the presence of CO₂, CaCO₃ reacts with it to form calcium bicarbonate [Ca(HCO₃)₂]. In this way, the CO₂ dissolved in the water acts as an acid that contributes to the slow but constant dissolution of limestone.
The contact between CO₂-charged water and CaCO₃ occurs either in coastal environments, when groundwater emerges to the surface, or during rainfall, as atmospheric CO₂ can dissolve in rainwater. This dissolution process is responsible for the formation of cavities inside the limestone rock and the shaping of karst landscapes.
The image shows the formation of micro-relief and cavities caused by the dissolution of limestone in rainwater on the slope of the Sierra de Jimera de Líbar, during the ascent to the Cave of La Pileta, in the Sierra de Benaoján (Cádiz, SW Spain).
Ahora en español:
La roca caliza está formada por carbonato de calcio (CaCO₃). Aunque sólido y resistente, el CaCO₃ se disuelve con mucha facilidad en agua rica en dióxido de carbono (CO₂). En presencia de CO₂, el CaCO₃ reacciona con él para formar bicarbonato de calcio [Ca(HCO₃)₂]. De este modo, el CO₂ disuelto en el agua funciona como un ácido que contribuye a la disolución lenta, pero constante, de la caliza.
El contacto entre agua cargada de CO₂ y CaCO₃ se produce bien en medios litorales, bien cuando el agua subterránea aflora a la superficie o bien cuando llueve, ya que el CO₂ atmosférico puede disolverse en el agua de lluvia. Este proceso de disolución es el responsable de la formación de cavidades en el interior de la roca caliza y del modelado del paisaje kárstico.
En la imagen se aprecia la formación de microrrelieve y de cavidades causadas por la disolución de la caliza en el agua de lluvia en la ladera de la Sierra de Jimera de Líbar, durante el ascenso a la Cueva de La Pileta, en la Sierra de Benaoján (Cádiz, SO de España).