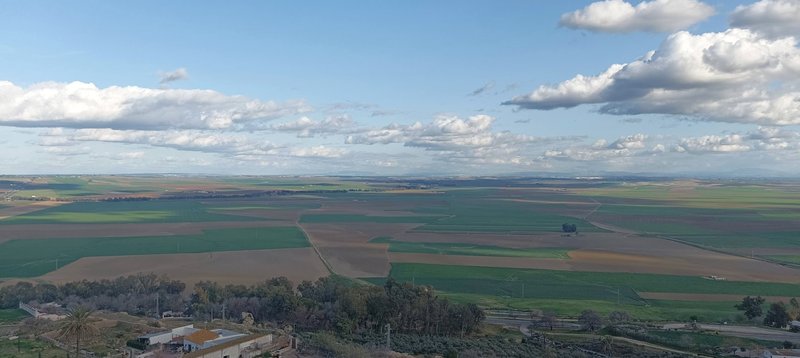 Cultivated soils of the Guadalquivir valley from the Carmona plateau (SW Spain)
by Antonio Jordán, University of Seville, Sevilla, Spain
First, in English:
The image shows a view of the Vega of the Guadalquivir River from Carmona (Seville). The city of Carmona is located on Los Alcores (from the Arabic "alqull," meaning hill), a plateau that ends in a structural scarp with a steep slope over the flat terraces of the Guadalquivir River. The photograph was taken from the Parador de Carmona, at the eastern end of the city, situated on the scarp of the Bonsor fault (which in this area separates the Miocene sedimentary rocks from the Quaternary alluvial plains). A fault is a fracture that occurs due to forces of friction, such as those caused by horizontal thrust or gravity (which causes the subsidence of surfaces filled with sediments).
The Guadalquivir terrace is a very flat and wide alluvial plain, where river channels flow forming meanders. The portion included in the photograph is mainly composed of clays and silts, as well as some outcrops of conglomerates and sands. In the photograph, it is possible to observe some different terrace levels, but with very little difference in elevation between them.
In the foreground, the countryside and irrigated fields of the Guadalquivir's floodplain are visible. The riparian forest associated with the Corbones River, a tributary of the Guadalquivir, can also be distinguished. Due to the flatness of the landscape, the view extends to some other towns located within a radius of 20-25 km (such as Fuentes de Andalucía or Marchena), as well as formations at more than 50 km away, like the Sierra de Grazalema (Cádiz), or even at 100 km away, like the Subbética Mountains (Córdoba).
Ahora en español:
La imagen muestra una vista de la Vega del Río Guadalquivir desde Carmona (Sevilla). La ciudad de Carmona está situada sobre Los Alcores (del árabe "alqull", collado), una meseta que termina en un escarpe estructural con fuerte pendiente sobre las terrazas planas del Río Guadalquivir. La fotografía se tomó desde el Parador de Carmona, en el extremo oriental de la ciudad, situado en el escarpe de la falla de Bonsor (que en esta zona separa las rocas sedimentarias del Mioceno de las llanuras aluviales del Cuaternario). Una falla es una fractura que se produce por fuerzas de fricción, como las debidas al empuje horizontal o la gravedad (que causa el hundimiento de superficies rellenas con sedimentos).
La terraza del Guadalquivir es una llanura aluvial muy plana y amplia, sobre la que los cauces discurren formando meandros. La porción incluida en la fotografía está formada principalmente por arcillas y limos, además de algunos afloramientos de conglomerados y arenas. En la fotografía se pueden observar algunos niveles de terraza diferentes, pero con muy poca diferencia de elevación entre sí.
En primer término, se observa la campiña y los regadíos de la vega del Guadalquivir. También se distingue el bosque de ribera asociado al Río Corbones, afluente del Guadalquivir. Debido a lo plano del paisaje, la vista alcanza a ver algunas otras localidades situadas en un radio de 20-25 km (como Fuentes de Andalucía o Marchena), así como formaciones a más de 50 km, como la Sierra de Grazalema (Cádiz) o a 100 km, como las sierras Subbéticas (Córdoba).