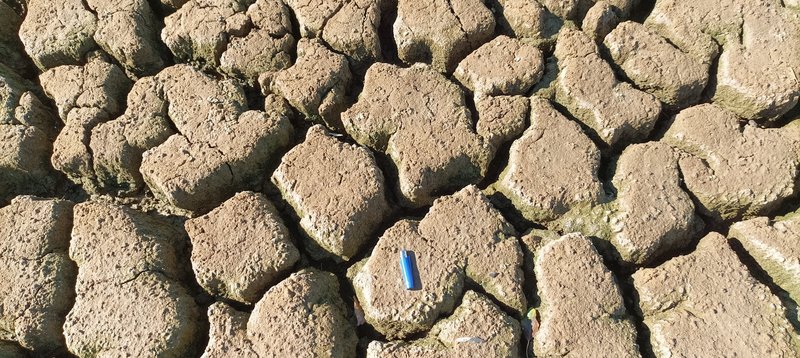 Scale model of Doñana marshes
by Antonio Jordán, University of Seville, Sevilla, Spain
First, in English:
Bottom of a dry lagoon in the Cañada de Los Pájaros (Birds Dale) in the surroundings of the Doñana National Park (Huelva, SW Spain).
After an exceptionally long, hot, and dry summer, the area's lagoon system has dried up. The bottom, clayey and silty, contracts to form a network of columnar aggregates separated by small valleys (cracks).
The resulting appearance is that of a scale model of the nearby Doñana marshes. My blue lighter is 8 cm long.
Ahora en español:
Fondo de laguna seca en la Cañada de Los Pájaros en el entorno del Parque Nacional de Doñana (Huelva, SO de España).
Después de un verano excepcionalmente largo, caluroso y seco, el sistema de lagunas de la zona se ha secado. El fondo, arcilloso y limoso, se contrae formando un entramado de agregados columnares separados por pequeños valles (grieta).
El aspecto que resulta es el de una maqueta de las cercanas marismas de Doñana a escala. Mi mechero azul tiene 8 cm de largo.