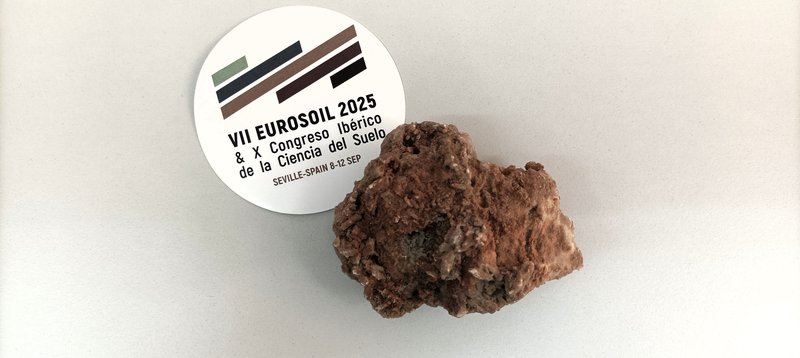 Gypsiferous soil aggregate (with product placement)
by Antonio Jordán, University of Seville, Sevilla, Spain
First, in English:
According to the World Reference Base for Soil Resources (WRB), Gypsisols are soils with a substantial secondary accumulation of gypsum (CaSO₄·2H₂O) and richness in nutrients. The USDA-Soil Taxonomy classifies them as Gypsids. In other classifications, such as the Russian system, they are referred to as "desert soils."
Gypsisols develop on alluvial, colluvial, and aeolian sediments and are found in both flat and mountainous terrains in arid regions. In most cases, natural vegetation is scarce and xerophytic or herbaceous and ephemeral. Farming these soils is typically complicated by the presence of soluble salts, CaSO₄, CaCO₃, nutrient balance, or water availability. However, certain agricultural uses are allowed when they are deep enough.
In points of Andalusia (southern Spain) such as the southern part of the province of Seville or the northern part of the province of Cádiz (where the photographed soil aggregate was collected), gypsum-rich soils are common. They are usually classified as Calcisols (soils with a calcic horizon), although there are frequent occurrences of Gypsisols (showing a gypsic or petrogypsic horizon).
During the Triassic period, the above mentioned area was initially submerged under shallow seawater. The slow retreat of the sea during the Mediterranean desiccation and intense evaporation allowed the accumulation of CaSO₄.
Ahora, en español:
Según la Base de Referencia Mundial para los Recursos Suelos (WRB), los gipsisoles o gypsisols son suelos con una acumulación secundaria sustancial de yeso (CaSO₄·2H₂O) y riqueza en nutrientes. La Soil Taxonomy los clasifica como Gypsids (USDA Soil Taxonomy). En otras clasificaciones, como la rusa, se les llama "suelos desérticos".
Los gipsisoles se desarrollan sobre sedimentos aluviales, coluviales y eólicos. Se encuentran en terrenos llanos y montañosos en regiones áridas. En la mayoría de los casos, la vegetación natural es escasa y xerofítica o herbácea y efímera. La explotación agrícola de estos suelos es normalmente complicada por la presencia de sales solubles, CaSO₄, CaCO₃, el equilibrio de nutrientes o la disponibilidad de agua. No obstante, cuando son profundos, se permiten ciertos aprovechamientos agrícolas.
En zonas de Andalucía (SO de España) como el sur de la provincia de Sevilla o el norte de la provincia de Cádiz (donde se obtuvo el agregado de la imagen) son frecuentes suelos con presencia de yeso. Normalmente se clasifican como Calcisoles (suelos con un horizonte cálcico), aunque son frecuentes enclaves con Gypsisoles (con un horizonte gípsico o petrogípsico).
Durante el Triásico, la zona mencionada más arriba se encontraba inicialmente sumergida bajo agua marina, a veces de poca profundidad. La lenta retirada del mar durante la desecación del Mediterráneo y la intensa evaporación permitieron la acumulación de CaSO₄.