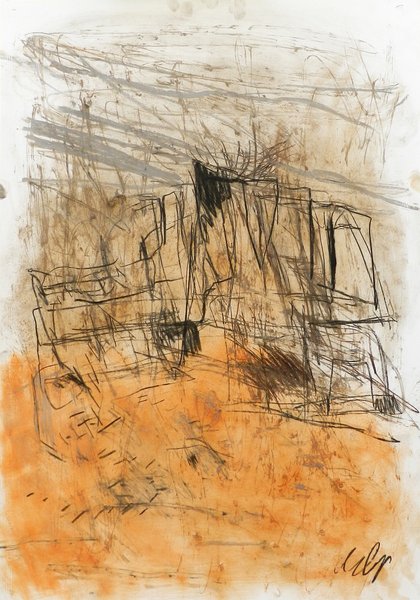 Earth's palette used by the painter
by Antonio Jordán, University of Seville, Sevilla, Spain
First, in English:
David López Panea (Seville, 1973) is a Spanish painter whose work is rooted in his connection with nature and the landscape. In many of his landscapes, he uses the soil, vegetation, and rocks from the observed location as pictorial materials, so that the colors in his works are entirely derived from the landscape he recreates.
This work is titled "Castellar 02" and it depicts a landscape of the Castellar Mountain Range (Badajoz, Spain). Soil material was collected, air-dried, sieved to different sizes, and classified using the Munsell color system.
Ahora, en español:
David López Panea (Sevilla, 1973) es un pintor español cuya obra parte de la relación con la naturaleza y el paisaje. En muchos de sus paisajes utiliza como materiales pictóricos el suelo, la vegetación y las rocas del lugar que observa, de modo que los colores de sus obras provienen íntegramente del paisaje que recrea.
La obra de la fotografía se titula "Castellar 02" y muestra un paisaje de la Sierra del Castellar (Badajoz, España).
Para su realización se recogieron muestras de suelo, se secaron al aire, se tamizaron a diferentes tamaños y se clasificaron mediante el sistema de colores Munsell.