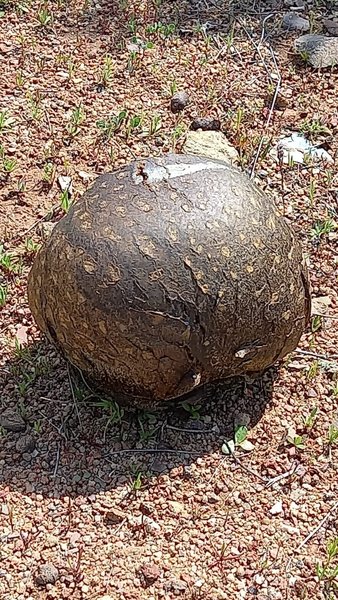 Dead man's foot (Pisolithus arhizus)
by Antonio Jordán, University of Seville, Sevilla, Spain
First in English:
Pisolithus arhizus grows in coniferous and broadleaf forests, mainly on sandy basic soils, on slopes, roadsides, or forest tracks. It is a colonizer of degraded soils that facilitates the growth of some tree species, which is why it is used in reforestation.
The photograph shows a 13-cm in diameter individual and was taken at the edge of a forest path, quite eroded, which crosses the upper part of a hillside with scrub and scattered cork oaks.
Although it is not a mushroom appreciated for its flavor, it is used as a dye. Brown or brown dye can be extracted from it and has medicinal properties as an immunosuppressant.
Ahora, en español:
Pisolithus arhizus crece en bosques de coníferas y frondosas, principalmente en suelos básicos arenosos, en taludes, bordes de caminos o pistas forestales. Es un colonizador de suelos degradados que facilita el crecimiento de algunas especies arbóreas, por lo que se utiliza en reforestaciones.
La fotografía muestra un individuo de 13 cm de diámetro y fue tomada al borde de una pista forestal, bastante erosionada, que atraviesa la parte alta de una ladera con matorral y alcornoques dispersos.
Aunque no es un hongo apreciado por su sabor, se utiliza como colorante. De él se puede extraer tinte marrón o pardo y tiene propiedades medicinales como inmunosupresor.
Taken on 11 March 2023
Submitted on April 4, 2023
---
Categories
Location
Tags
mediterranean soils, forest soil, biodiversity, forest soils, soil biology
Colour palette
---
1125 × 2000 px; image/jpeg; 575.0 KB
Licence
Credit: Antonio Jordán (distributed via imaggeo.egu.eu)
---
Share this
---
Click to appreciate
---
Report