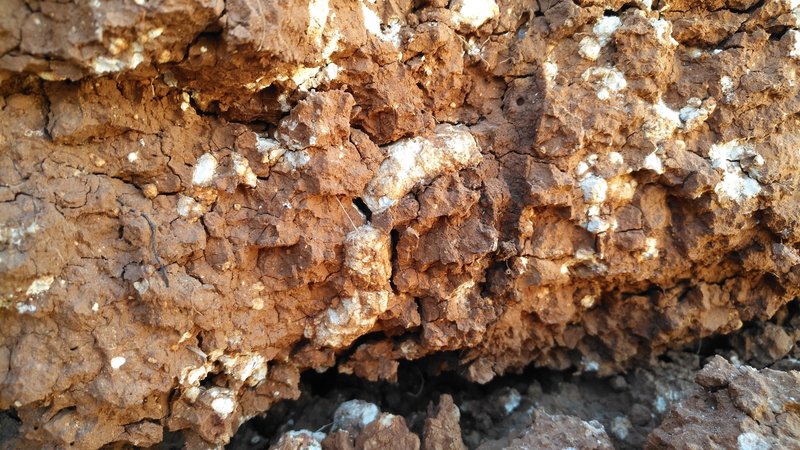 Calcium carbonate concretions in a soil horizon
by Antonio Jordán, University of Seville, Sevilla, Spain
First, in English:
The presence of carbonate nodules in the lower horizons of the soil profile indicates a wash (decarbonation) in the upper part and the subsequent accumulation of carbonates in the lower horizons (calcic horizons).
The picture shows a calcic horizon immediately below an argic horizon. In this cae, decarbonation occured prior to clay washing, since clay flocculates in the presence of calcium and can not be dispersed. On the other hand, the appearance of nodules in a clayeous horizon indicates an aridification after the accumulation of clay.
The relatively large size (> 1 cm) of the carbonate nodules gives an idea of ​​their age. The growth of the nodules from small previous crystals occurs thanks to a continuous supply of material during a long time.
The shape of the nodules also provides information about their age. In general, young nodules are irregularly shaped (formed from small crystals), while older nodules are spherical or polyhedral (grown by recrystallization). Nodules grow occupying pores and galleries (such as those excavated by the soil fauna or the roots of the plants), as shown in the image.
Ahora, en español:
La presencia de nódulos de carbonato en los horizontes inferiores del perfil del suelo indica un lavado (descarbonatación) en la parte superior y la subsiguiente acumulación de carbonatos en los horizontes inferiores (horizontes cálcicos).
La imagen muestra un horizonte cálcico inmediatamente debajo de un horizonte argílico. En este caso, la descarbonatación ocurrió antes del lavado de arcilla, ya que la arcilla flocula en presencia de calcio y no puede dispersarse. Por otro lado, la aparición de nódulos en un horizonte arcilloso indica una aridificación después de la acumulación de arcilla.
El tamaño relativamente grande (> 1 cm) de los nódulos de carbonato da una idea de su edad. El crecimiento de los nódulos a partir de cristales previos pequeños ocurre gracias a un suministro continuo de material durante un largo período de tiempo.
La forma de los nódulos también proporciona información sobre su edad. En general, los nódulos jóvenes tienen formas irregulares (formados a partir de pequeños cristales), mientras que los nódulos más antiguos son esféricos o poliédricos (crecidos por recristalización). Los nódulos crecen ocupando poros y galerías (como las excavadas por la fauna del suelo o las raíces de las plantas), como se muestra en la imagen.