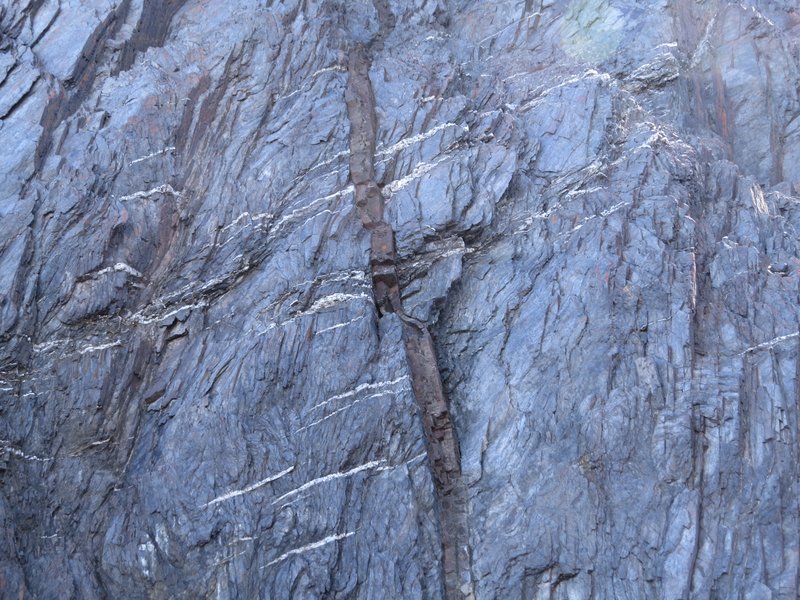 Tithonian aged lamprophyres & pyroxenites cross-cutting Ordovician aged sediments
by Brant Gaetz, Memorial University of Newfoundland, St John's, Canada
Tithonian aged alkaline intrusives (lamprophyres & pyroxenites) cross-cutting Ordovician aged accreted terrane lithologies, northern-central coast of Newfoundland: suite referred to by previous authors as the Notre Dame Bay Magmatic Province (NDBMP) and mark a significant rift phase in the opening of the North Atlantic.
SEE:
Peace, A.L., Welford, J.K., Geng, M., Sandeman, H., Gaetz, B.D., & Ryan, S.S., (2018). Rift-related magmatism on magma-poor margins: Structural and potential-field analyses of the Mesozoic Notre Dame Bay intrusions, Newfoundland, Canada and their link to North Atlantic Opening. IN: Tectonophysics (2018), v. 745, p. 24–45, DOI: 10.1016/j.tecto.2018.07.025.
Peace, A.P., Welford, J.K., Dunning, G.R., Sandeman, H.A.I, & Camacho, A., (2019). Episodic magmatism resulting from intermittent rifting of the proto-North Atlantic: Insights from new geochronological constraints in Newfoundland, Canada. IN: Geophysical Research Abstracts, Poster Presentation,
v. 21, n. EGU2019-6198-1, (EGU General Assembly, Vienna, Austria 2019).