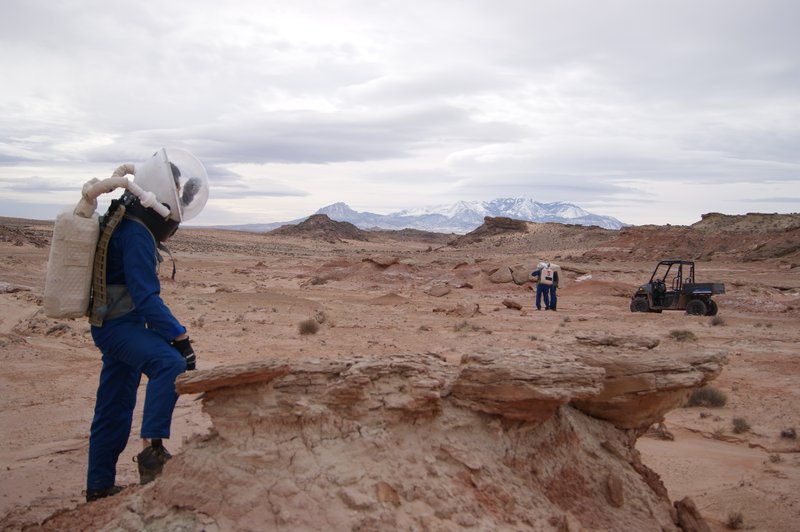 Collecting Samples on Mars
Establishing a human presence on Mars is increasingly seen by space agencies and private organizations as the horizon frontier in human space exploration. These long-duration missions however, impose a high degree of technological, operational, physical and psychological challenges. Mars analog habitats, such as the Mars Desert Research Station in Utah (U.S.) are established to conduct field experiments, test new hardware, new operational concepts and study the social and crew teamwork dynamics in support to these future manned missions to the Red Planet.
The International Emerging Space Leaders (IESLs) Crew (or MDRS Crew 205) is composed by eight outstanding international space young professionals and students, who together, will undertake a Mars analog mission from February 9th to 24th at MDRS. The IESL's Crew is an interdisciplinary and multicultural team including members from Kuwait, Spain, Germany, the U.K. and the U.S. During the two-week rotation, the crew will simulate a mission to the Red Planet. The team will conduct multiple research projects relevant to space exploration in areas such as in-situ resources utilization, human behavior, leadership and teamwork, astronomy, geology, EVA optimization, and science outreach. In addition to these research projects, the crew will also be in charge of the maintenance of MDRS facilities and daily operations of the station. This mission will also ultimately contribute to a better understanding of the requirements, benefits and challenges of international teams in future manned missions.
Featured on GeoLog, the official blog of the European Geosciences Union