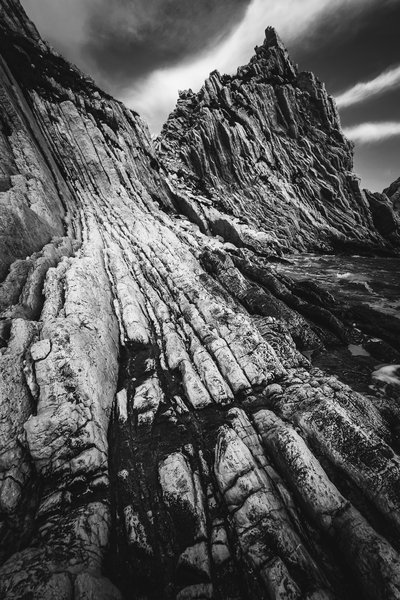 Lower Cretaceous relics
Calcareous stratification in Conero area.
The Conero mountain represents the easternmost anticline of the Appenine Orogeny, which developed during several tectonic stages since Cenozoic (~65 Ma).
These pure Pelagic calcareous were exposed during the last sea level high-stand that eroded the surrounded tertiary deposits.
A site of interest, Mone Conero suffered a Paleo-landslide that formed entirely the beaches of Portonvo where nowadays tourists enjoy their holidays.
The promontory has an important geologic interest since different boundaries are present like the Eocene-Oligocene (Massignano cave), the K-T boundary (at Fonte d'Olio), Serravaliian-Tortonian (Monte dei Corvi) and Burdiglian-Langhian (at La Vedova cliff).